"Embrace your weird." – Catherine Caine, Cash And Joy
Have you ever censored an idea because you were afraid it would freak people – especially those closest to you – out?
Yeah, me too.
The good news is, we can stop, because giving our inner weirdos free rein could not only be beneficial, it could be a great basis for getting paid to play.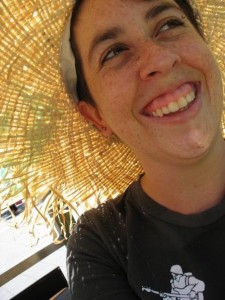 Catherine Caine has made her business all about helping people embrace their weird, and she make sure to lead by example.
Catherine calls herself a "speed-metal Polyanna," and though I'm yet to sample her tastes in music, she writes every communique, whether on her web sites (Cash And Joy and Mediocre Be Damned), her newsletter or her group forum, as though she's a Shakespearian ham and you're her best damn friend (even if she's not met you yet).
And the great bit? Being her uniquely weird self and helping people find their own unique weirdness earns Catherine enough paying customers to cover all her bills.
The only reason she's taken a service job at the supermarket is to counteract the solitary nature of running her consulting business from home.
I'd also like to cite the case of Gavin Dunne. Gavin started writing rock songs based on video games to cheer himself up when his career as a recording and performing musician seemed to have git a brick wall. Pretty weird, right?
Well, after his first song, "Gordon Freeman Saved My Life," went viral amongst the gamer community, Gavin acquired a global fan base that pays the Irishman enough to keep him in rent, Guinness (sorry if you actually hate the stuff, Gav), new video games and high-end music kit for his one-man project, Miracle of Sound.
"The gatekeepers are gone," says Kelly Gurnett of Cordelia Calls It Quits. "Be yourself and let people find you."
Want to hear more about how being themselves helped Catherine Caine and Gavin Dunne start their respective businesses? Have a listen to their episodes of The Paid to Play Podcast!
Featured image by Amanda Smith. Used under a Creative Commons Attribution-ShareAlike 2.0 Generic licence.